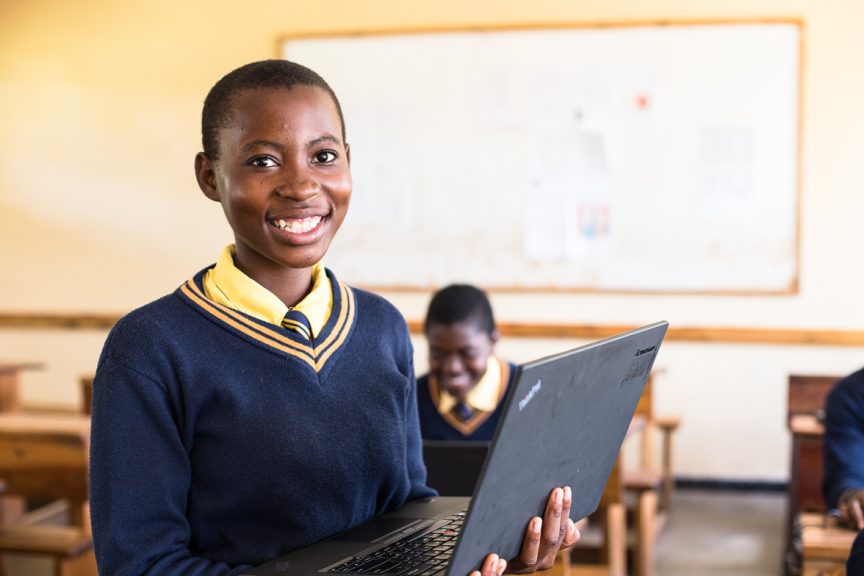 | Written by: Leslie Kinzel
SHARE
Laptops have arrived
The Power connection from the National grid was connected to the school at the beginning of March. This is a big deal for the students and staff at Kuwala. The classrooms now have lights and power for their donated laptops. With the power on, the girls can study late into the evening. They will feel safe and secure while walking to and from the Hostel to the Classroom as the grounds will have pathway lighting as well as the existing perimeter fencing around the campus.займ на карту без отказа без проверки на карту мир
The power connection came just in time as the shipment of 50 laptops arrived! This did not happen without a lot of effort with our shipping partners, and a lot of letter writing and persistence from our partners in Malawi to get the clearance and customs approval. These laptops will fundamentally change the school, the students and staff.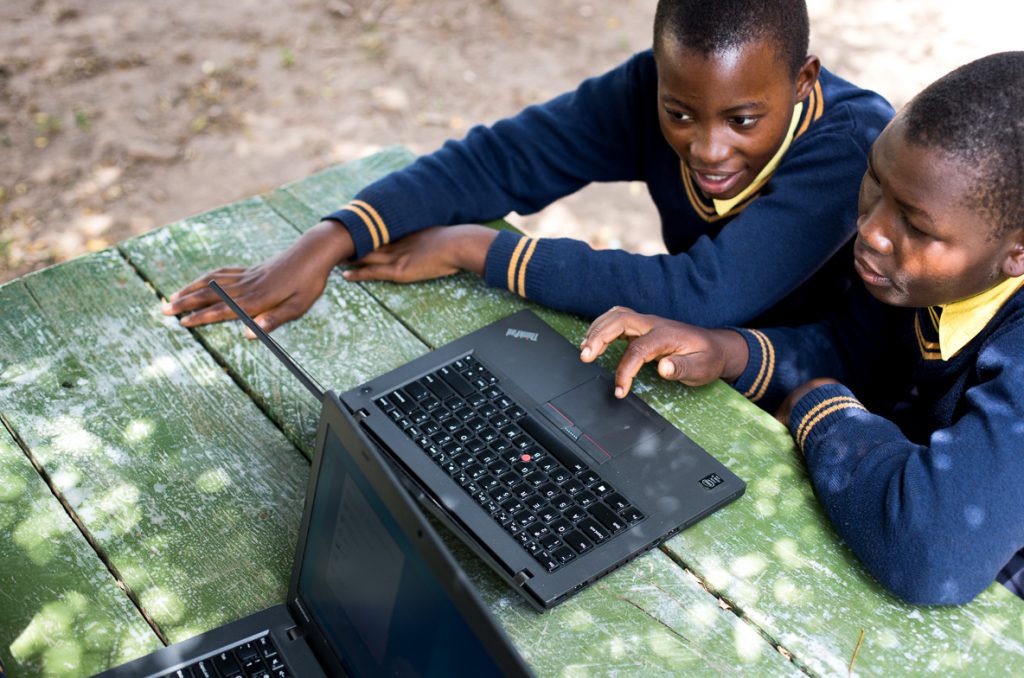 COVID-19
As the world battles the challenges of the Global Pandemic, so too will our Malawi Community. As of this writing, there are no infected persons in Malawi or at the school. The Government however, has closed all the schools and Universities in Malawi and Kuwala has sent the girls and staff home for the balance of the school year. Kuwala will maintain two security guards at the campus and a teacher will be moving into the new teacher's house that has been completed on campus. Our small construction crew will complete the installation of windows and move in will commence soon after. This will keep a presence at the school and keep active the production at the greenhouse.
It is inevitable that Malawi will suffer from this Covid19 pandemic. It will be very, very challenging, in a system with only a fraction of what we have, to cope with a pandemic of such magnitude.
Support for sponsorships for the girls and support for the school will be more important than ever.
Greenhouse
Significant work has been taking place to get the Greenhouse ready for production. Before being sent home, the girls were learning about fertilizer. How to make it, it's properties and benefits for enhancing the production for an abundance of crops.
The first step is the loosening of the soil. Microbial activity needs oxygen for respiration.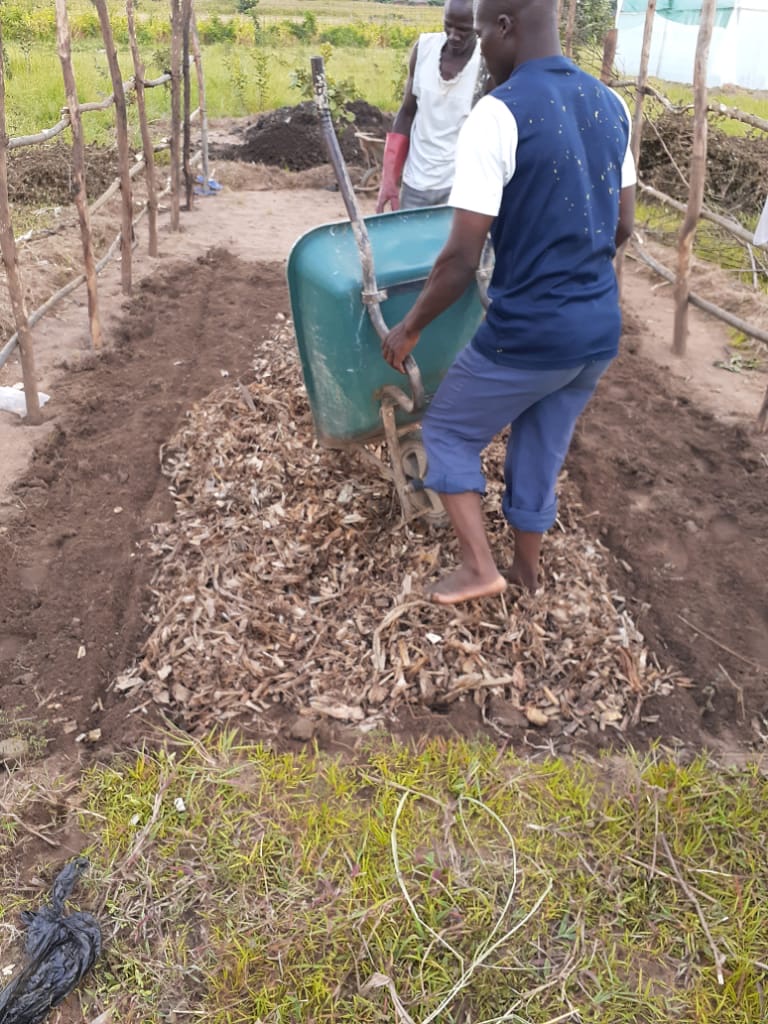 The wheelbarrow team is applying the first layer of chopped maize stalks.
The next step is the application of animal dung procured from the surrounding villages.
Water is sprinkled every 2 to 3 layer intervals to keep the heap moist.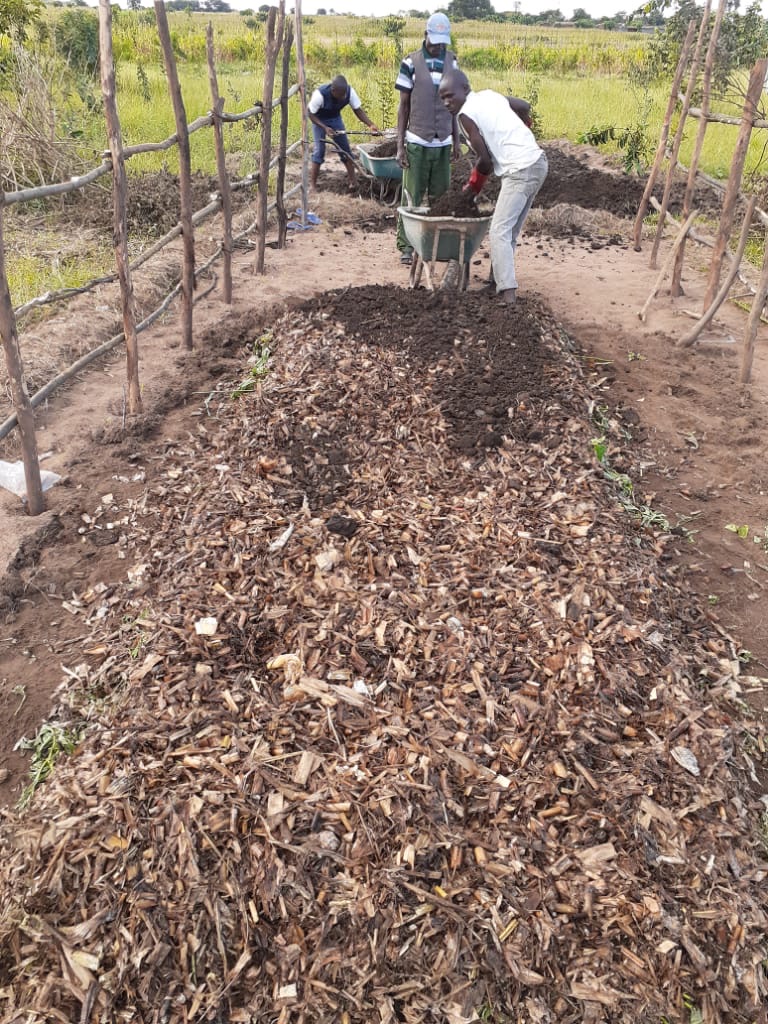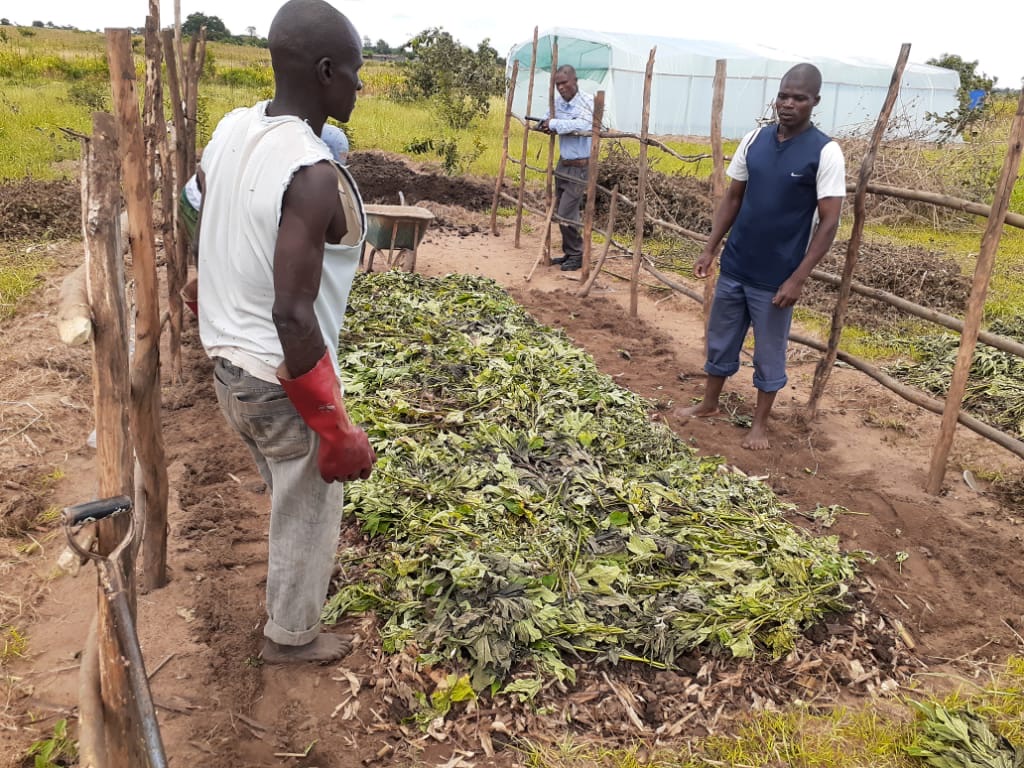 The next step shows the application of fresh shrubs being applied to the pile.
This 3-layered application is repeated and watered until the heap is 1.5 m in height and 1 m in width and 3 m long.
The pile is then wrapped in black polythene paper, although not air tight to allow the microorganisms to breathe.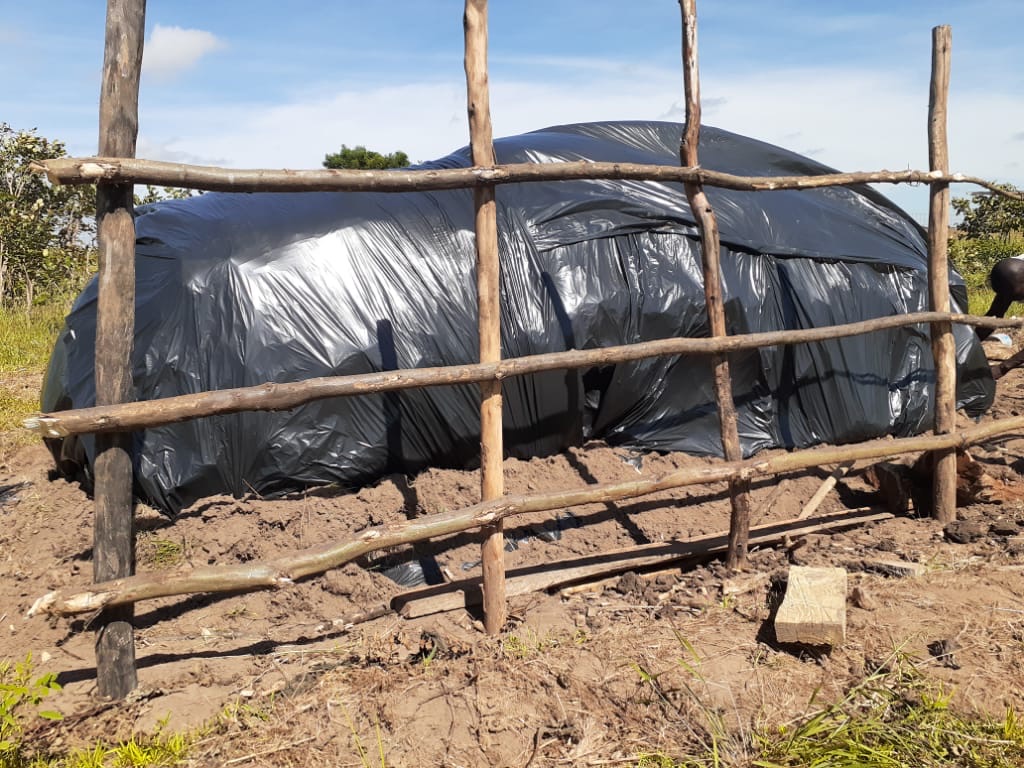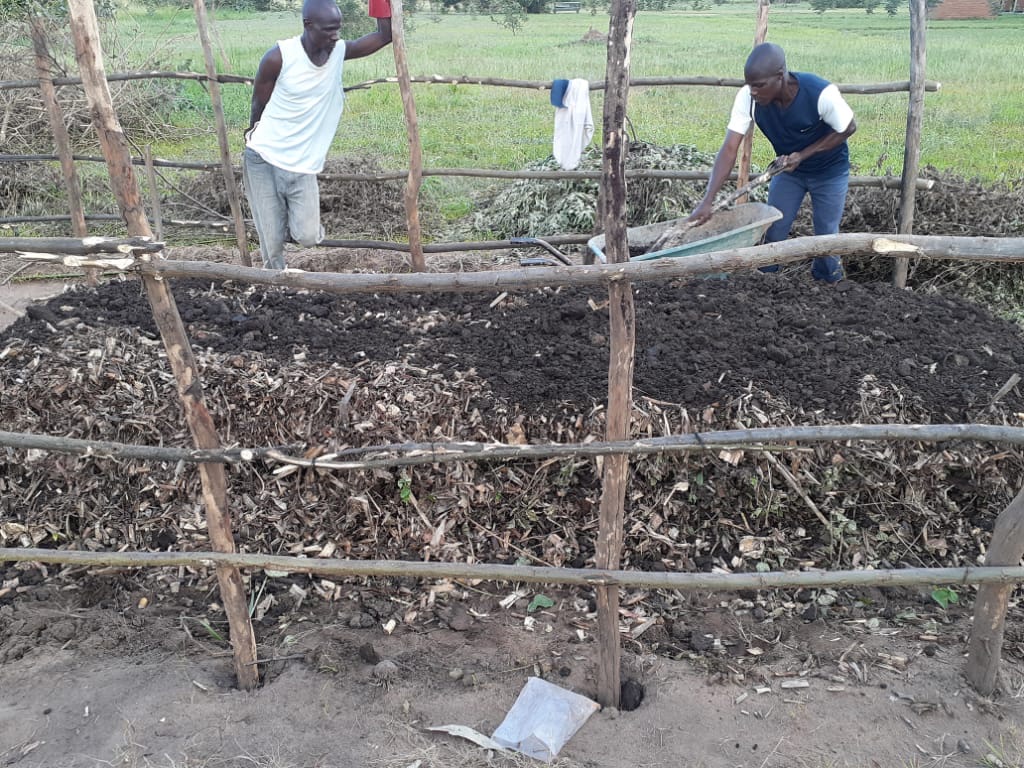 At every 4-day intervals, the pile is turned to allow an even distribution of the microbial activity and sprinkling of water, depending on moisture content
The composting fertilizer takes 21 days to mature. While waiting, the crew has started making raised beds in the greenhouse and a nursery for the tomatoes.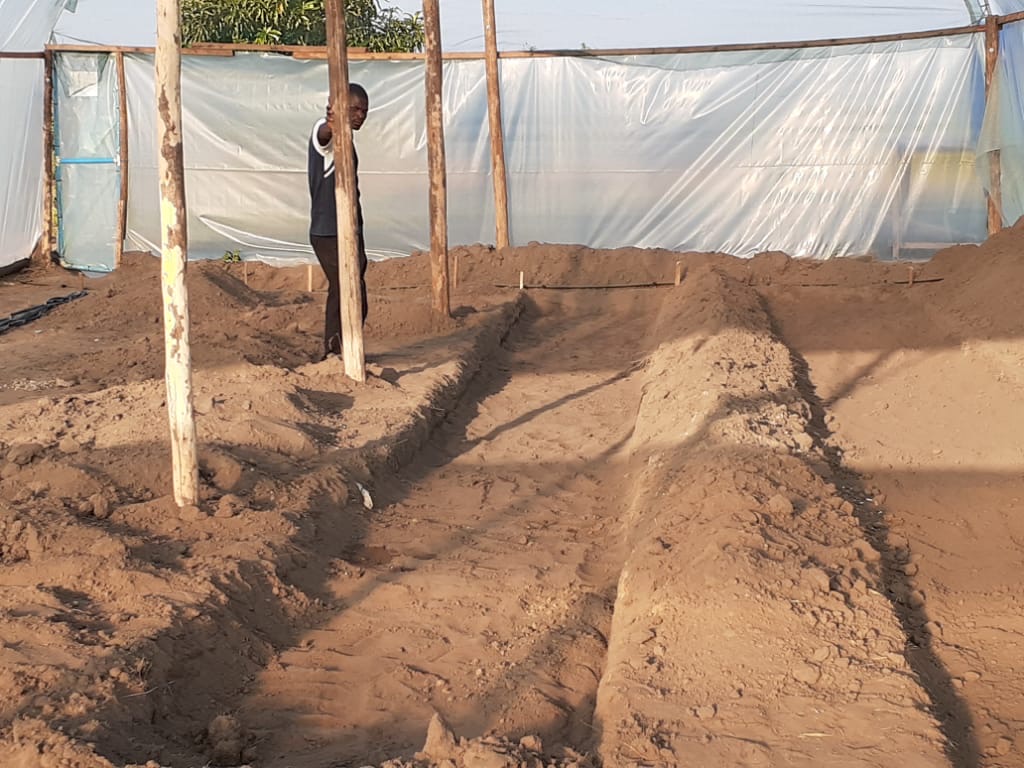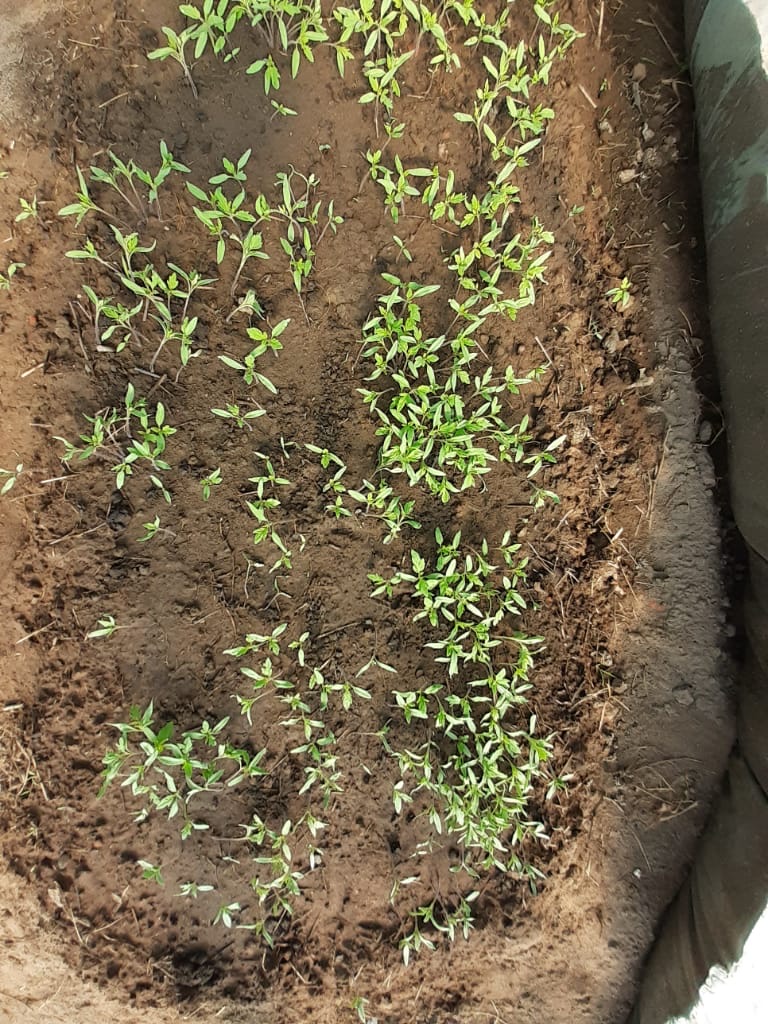 The crew sowed EVA 1, which is a tomato seed from Kenya. It will take 2 weeks to sow the seeds.
Finally, the manure has produced green sprouts. It will still be too hot, so it will now be spread out to cool and then will be used in the greenhouse.