To support the growth of Kuwala we need to fundraise. Know that approximately 96% of donated funds go directly to Malawi girls to support their educational goals while at secondary school.

We use social media and this website to launch interesting campaigns that highlight the struggles and challenges these girls face while trying to get an education. Knowledge and skills can break the cycle of poverty and give sponsored girls their educational dream of a lifetime. Education goes beyond shaping us as individuals it enhances our perspectives and teaches the larger community about values and human rights. The following content has appeared on our social media platforms.
---
Raise the Roof
Our next major campaign is to fund a second dorm on Campus. Our plan's key component is to complete a 120 all-girl school with four grades of 30 students each. We are creating a quality, safe environment for learning. We believe educating girls is the strategy to break the cycle of poverty in Malawi. A donation goes a long way and will provide positive changes for decades. For some of the girls, it is their first experience sleeping on a mattress, having running water, indoor washrooms, showers, and electricity.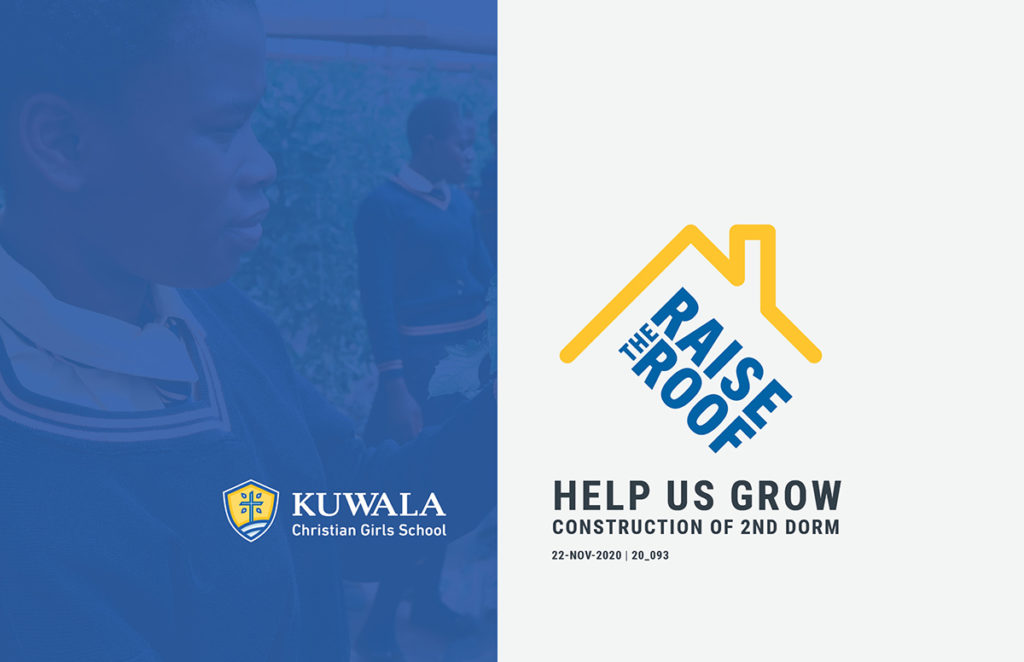 Raise the Roof Campaign PDF
---
Shine a light on Kuwala
---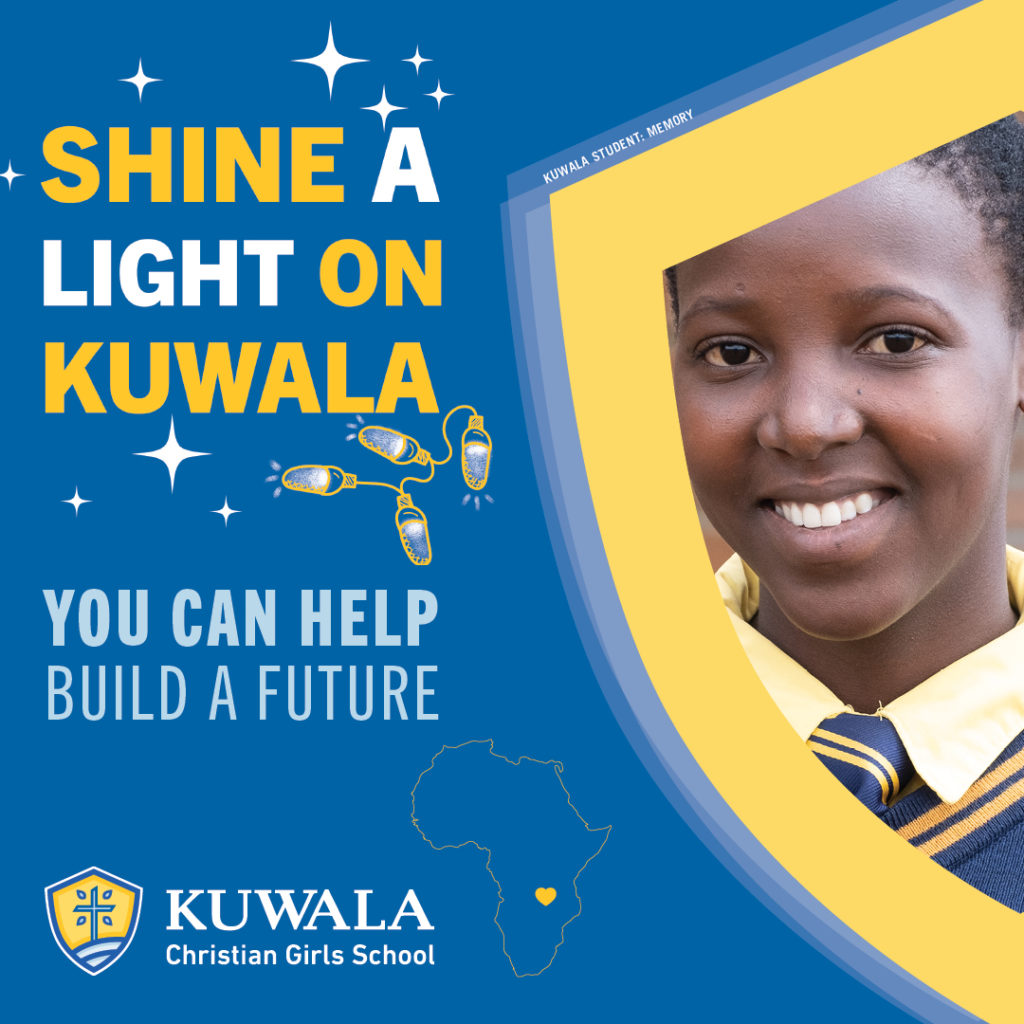 Sponsor a girl's education
To build a sustainable future and make a difference in the lives of young girls who will change the poverty cycle, we have created the infrastructure to support between 120 to 720 students at Kuwala. Our building continues—the next project is to fund a second hostel for the next group of 60 girls. You can help "Shine a Light," by sponsoring a girl.
You will be changing the life of a teenage girl in Malawi to realize her potential. As a charity, we have one of the lowest management expense ratios. 96 cents of every dollar raised goes directly to fund the Kuwala campus. Our all-volunteer board is actively engaged in optimizing every dollar earned through fundraising.
Learn more about how you can help by visiting our website and downloading our 2019 Annual Report.
---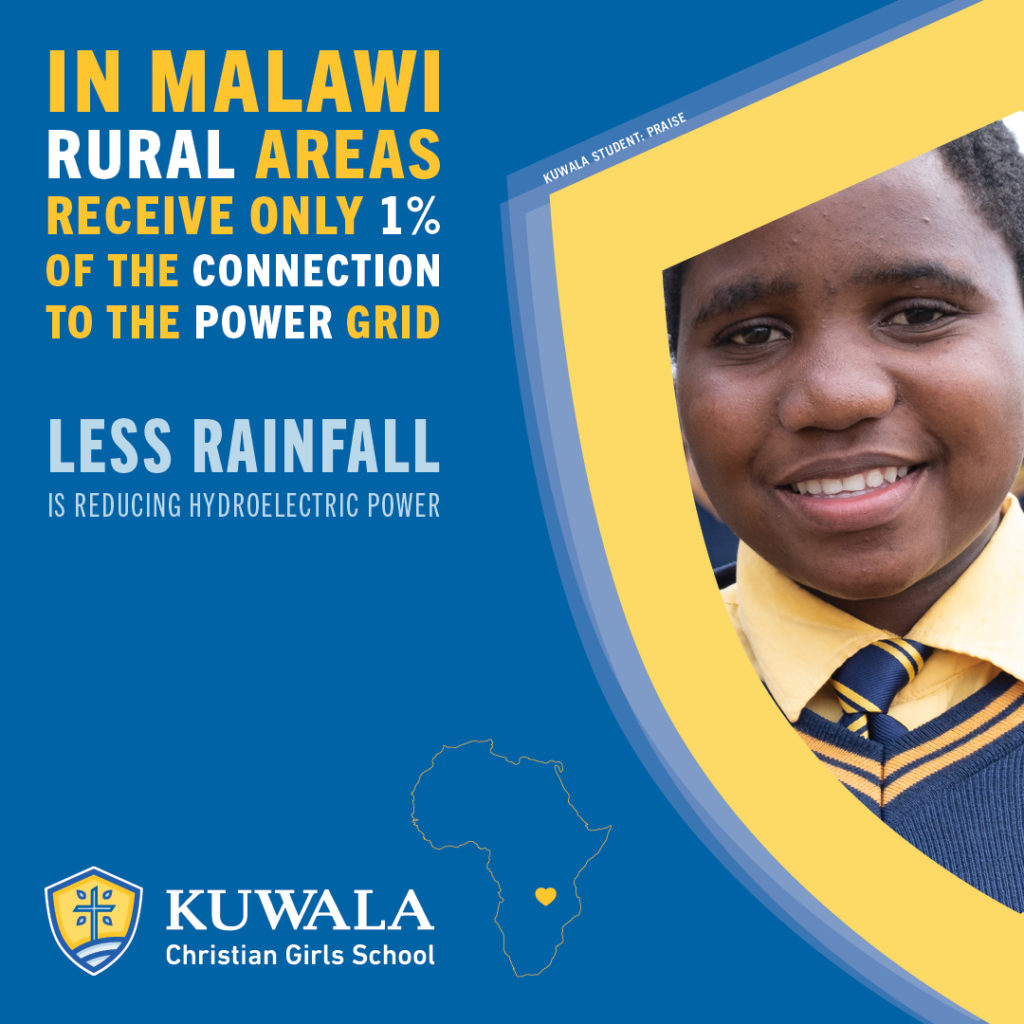 Energy inequality
Water is the ingredient of life on the planet. Malawi relies on hydroelectric power. Currently, the country generates 439 Megawatts of electricity. However, conditions are erratic and unpredictable because of drought and low water levels.
Rural areas receive only 1% of the connection to the national grid, where Urban areas obtain 46%. An alarming 3.2 million households are left without power. Unless Malawi receives above-average rainfall, hydroelectric power will become more unreliable. Inadequate power supplies limit the development of social, economic, and industrial programs.
To help address electricity and power inequality, Kuwala Christian Girls School was connected to the national grid in 2020 with a transformer donation.
On the green power front, solar power were adapted to the first hostel. There is more opportunity to develop solar power at the school as Malawi has a sub-tropical climate that is dry and warm with an average of 7.13 hours of sunlight per day.
Research
earthisland.org, worlddata.info, USAID.gov, The Guardian
---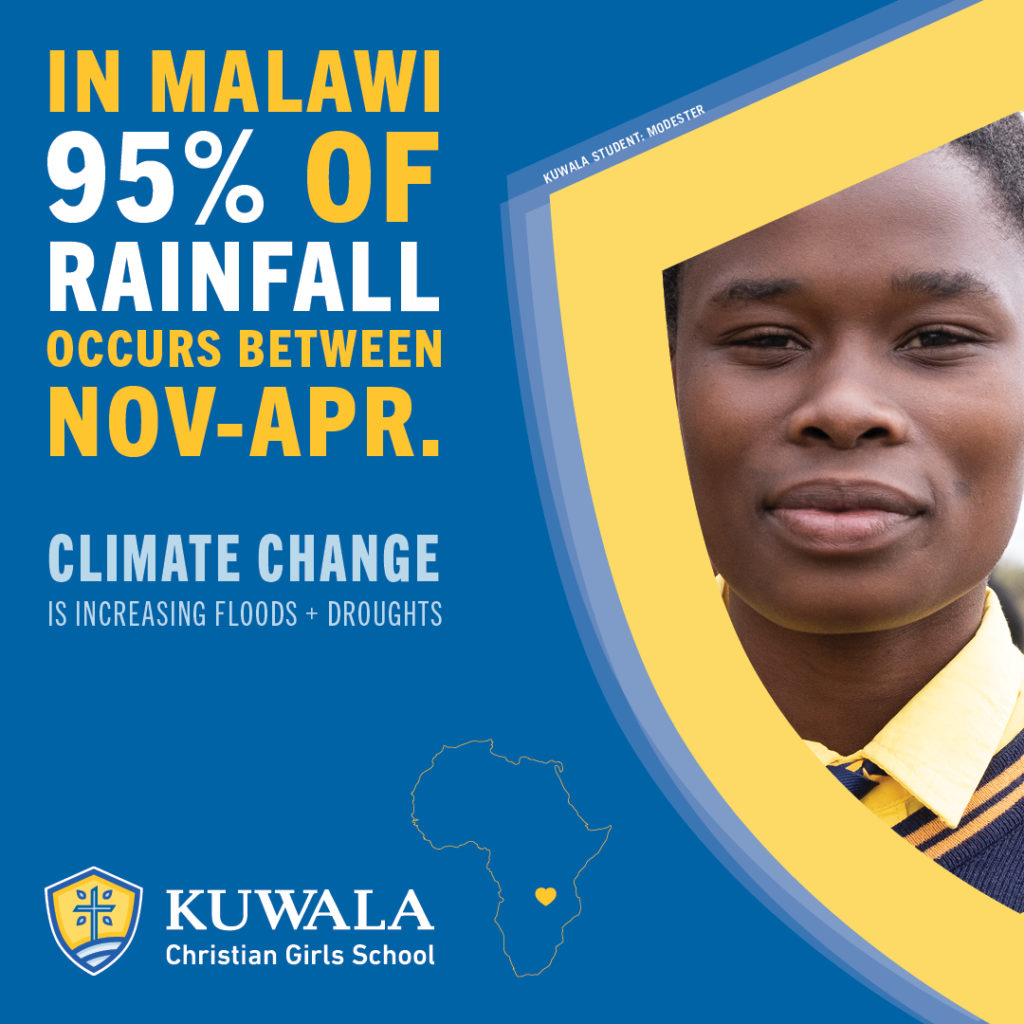 Climate change affects poverty in Malawi.
Drought and unpredictable rainfall have negatively impacted the planting and growing season. The lands in Malawi have been stripped of vegetation and trees to secure wood as fuel for cooking. This bleaches the soil and increases erosion.
Increasing winds and temperature further depletes the landscape, making it more challenging to grow crops. The Malawian diet consists of maize, a cornmeal ground to a porridge consistency and eaten twice a day. At the end of January 2020, the National average price for maize was 84% higher than last year. This dramatically increases the crisis of food insecurity, making it difficult for families to afford market prices for staple food items.
At Kuwala, our philosophy is to become sustainable and to encourage natural reforestation. Students are replanting the grounds with trees, shrubs, and growing their food using advanced irrigation principles. The objective is to sell excess produce such as tomatoes at the local market and to freeze or can for the school's meal program. The vision is to reforest the surrounding area of the campus.
Research
https://www.metmalawi.com/climate/climate.php
---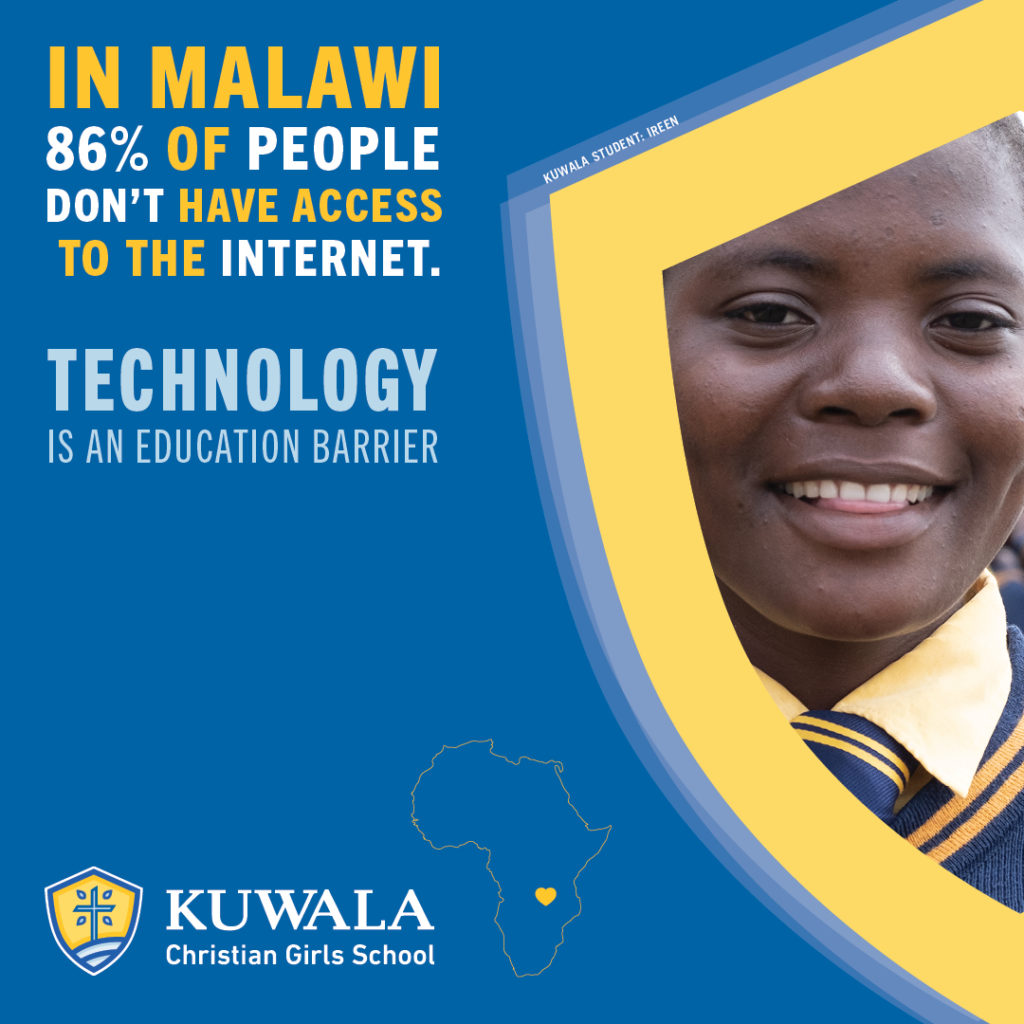 Access to technology
Lack of access to the internet and digital technology dramatically reduces populations' opportunities to reach their full potential.

Malawi has approximately 18 million people and out of this population, only 14% have access to the internet. And, 74 percent of web traffic was generated via smartphones. This means mobile devices are used to consume content and communication but not create content. There is no doubt that mobile technology can also deliver health information and services.

In the spring of 2020, a donation of gently used and reconditioned laptops arrived at Kuwala. The anticipation of learning about technology and the opportunities available are unlimited.

Kuwala is one of the few educational facilities in Malawi with access to computer technology. This will significantly impact a higher learning level and increase the girls' opportunities to enter the workforce or attend post-secondary education.
Research
https://www.statista.com/statistics/640140/malawi-internet-penetration/#:~:text=In%202017%2C%2013.78%20percent%20of,amounted%20to%2018.11%20million%20inhabitants.
---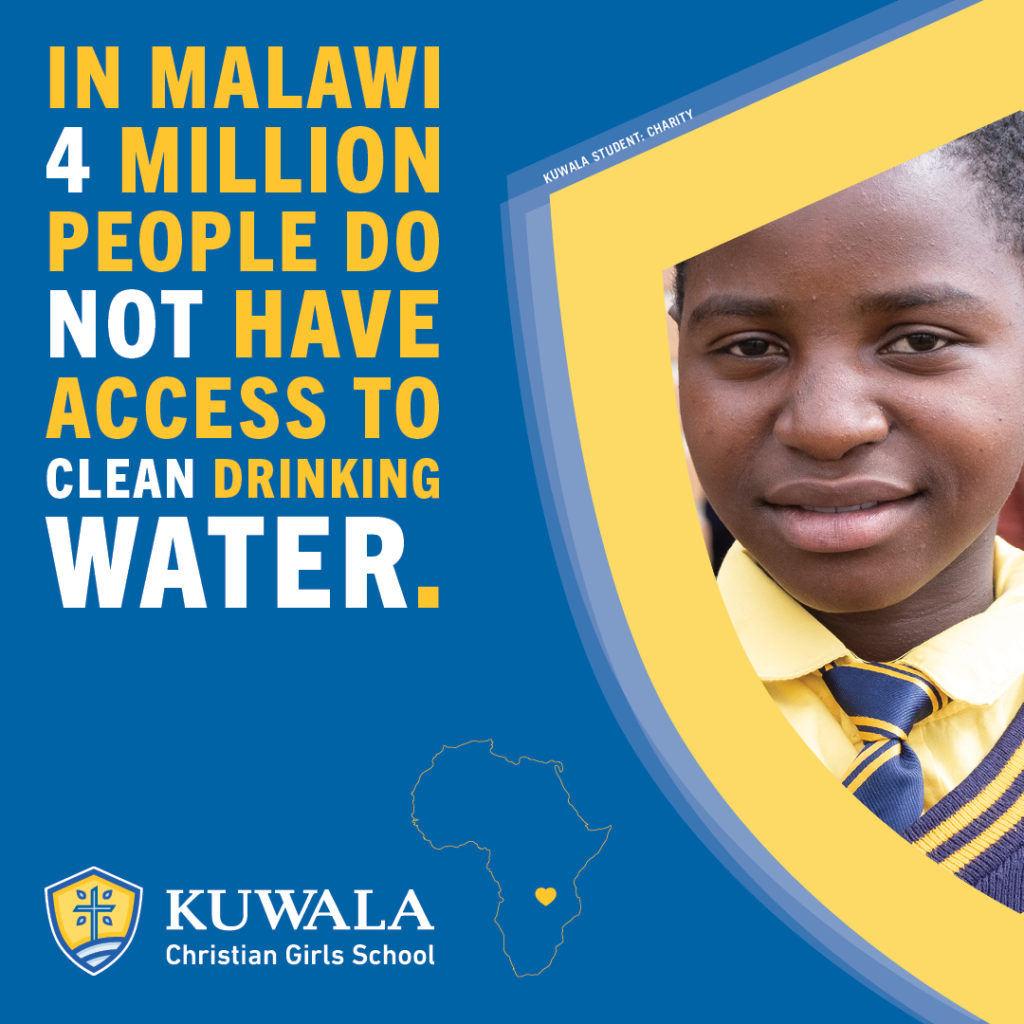 Access to clean potable water.
Clean water is vital for a healthy population. In Canada, we can turn on the tap and use as much water as we like with few consequences.
In Malawi, water inequality is improving; 80% of the population has access to an improved source of drinking water. But, Malawi still needs dramatic improvement because approximately 4 million people still do not have access to safe drinking water. About half of the population is affected by inadequate sanitation conditions.
Kuwala's early initiative to address water concerns was to bore a water well that feeds a massive water tower to hold over 30,000 litres of freshwater, ensuring a clean potable water supply to the campus. The water tower provides the necessary head pressure and the opportunity to have office space below the cisterns. Kuwala is building the infrastructure to meet the water demands of the campus for the next 30 years.
Research
https://www.usaid.gov/malawi/global-health/wash#:~:text=Clean%20water%20is%20vital%20for,to%20an%20improved%20sanitation%20facility.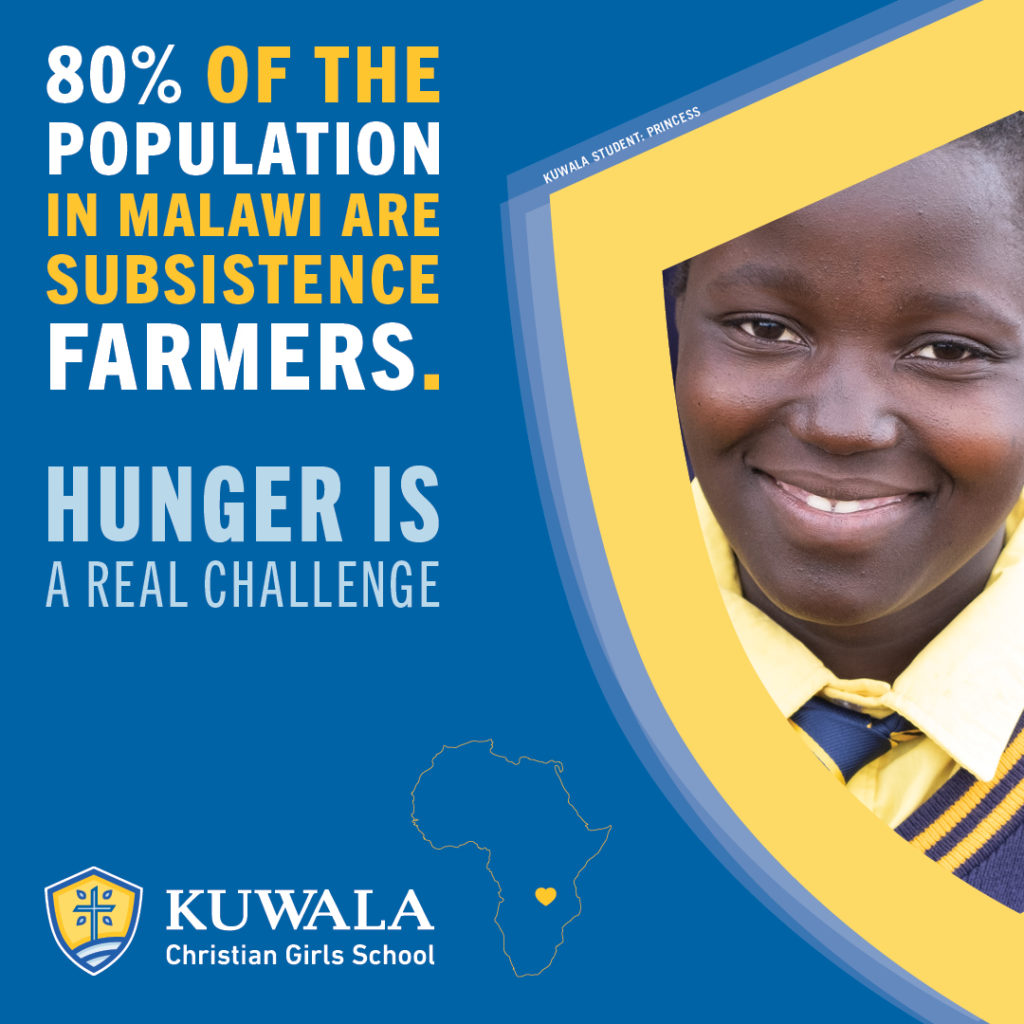 Access to safe, and nutritious food in Malawi
Smallholder food crop production primarily shapes the Malawian food supply. Ma­lawi's decades-long focus on improving smallholder productivity has only moderately improved food secu­rity and nutrition outcomes. Country statistics indicate an estimated 36.7 percent of rural Malawian house­holds failed to access sufficient calories in times of food insecurity stress. During these prolonged periods of stress, it is estimated that 47 percent of children under the age of five have stunted growth.
When the crops fail, the cycle of hunger begins. Last Christmas, the Kuwala school reached out to the local community to provide famine relief. In times of need, it's the Christian way to give what you can to help your neighbour. At the school, a donation of $1250CND means a girl is sponsored and has 3 nutritious meals a day. In addition, the school operates gardens and a greenhouse to supplement the food supply and sells access to the local market.
Research
https://www.ifpri.org/publication/agriculture-food-security-and-nutrition-malawi-leveraging-links
---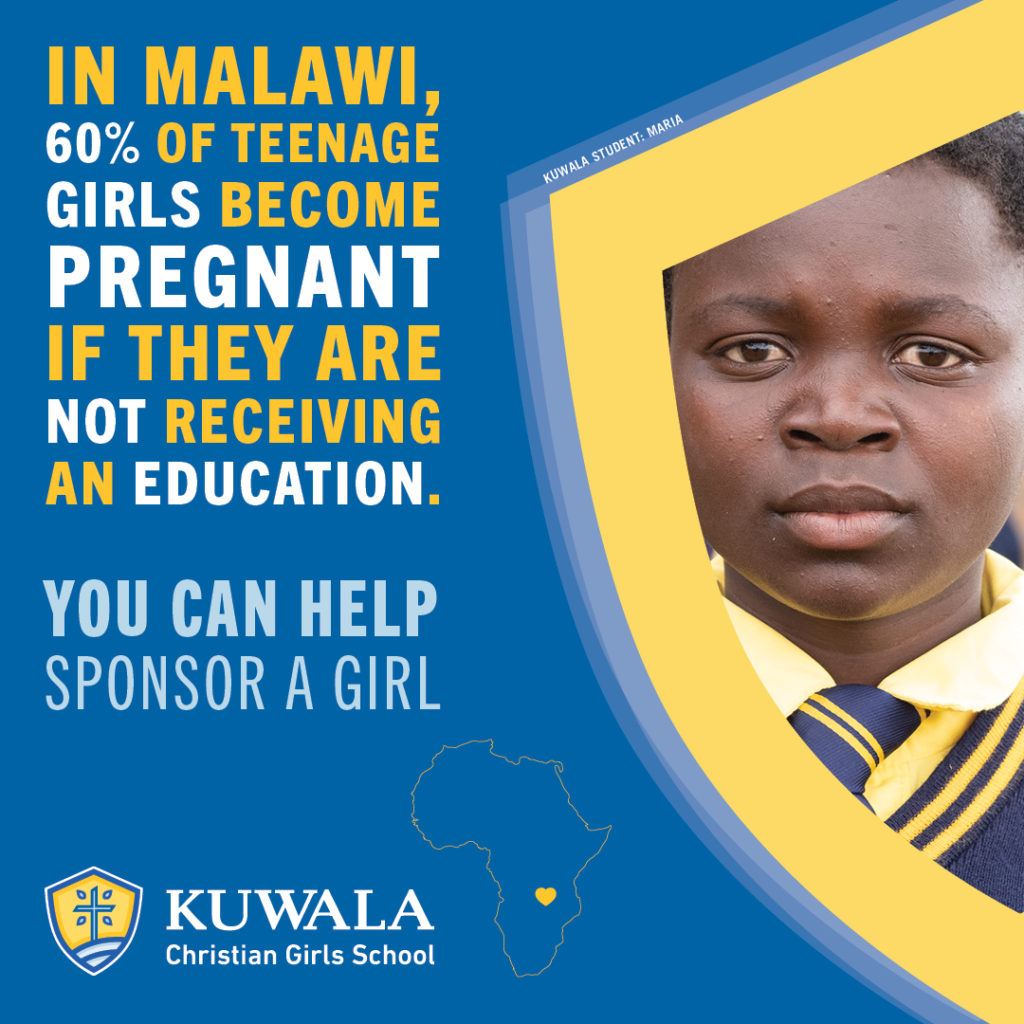 The leading root cause of teenage pregnancy in Malawi is poverty. Parents rely on farming and odd jobs to support the family, and there are not enough funds to send all their children to school. It's an economic decision since a boy with an education has better job prospects than a girl. We know that 46% of girls are married before age 18; this assures the cycle of poverty continues, and family duties prevent girls from receiving an education.
It is a cruel decision for families in Malawi. There are huge security concerns for girls who have to travel sometimes up to 20 kilometres for a round trip. At Kuwala, we remove the barriers to education, we house them, feed them, and provide a safe learning environment. The campus directly impacts the girls by changing the environment that promotes teenage pregnancy.
Research
AFIDEP. org. Ending teen pregnancy among girls in school in Malawi: An investment in knowledge pays the best interest. The Telegraph: Child marriages skyrocket in Malawi as Covid-19 closes schools.
---